Regular price
Sale price
$20.00 USD
Unit price
per
Sale
Sold out
Volume 0.07 Color Lashes
---
Want to offer a unique pose?
What could be better than trying our wonderful color lashes.
The boxes contain 3 shades each except chocolate. For a total of 43 luxurious and vibrant shades .
The extensions are super flexible and made of cashmere.
They are arranged on an aluminum strip which ensures that there are no glue residues on your strip support tools.
Here are the colors D I S P O N I B L E !!!
- 80's Fantasy
-Candy Pop
- Chocolate
- Little Fairy
- Lover's Dream
- Midnight Sky
- Ocean Vibe
- Pinky Crush
-Red Carpet
- Sunset in paradise
- Twist Chocolate
NEW NEW NEW
- Mermaid
-Flamingos
- Sweet Treat
-Rainbow Unicorn
---
Our luxurious eyelash boxes are made of recycled cardboard, we are happy to be the pioneer company in Quebec to offer eyelash extension boxes in ecological cardboard. Our enclosures have 15 rows of extensions . Our lashes are made of super soft and supple, animal-friendly cashmere that's laid out on an aluminum strip that won't leave sticky debris on your work pads.
**Available for certified technicians only.
---
0.07 is the most common volume lash diameter.
It can be used on most healthy natural eyelashes.
It gives a fuller pose than the 0.05.
*Organizer sold separately
Share
View full details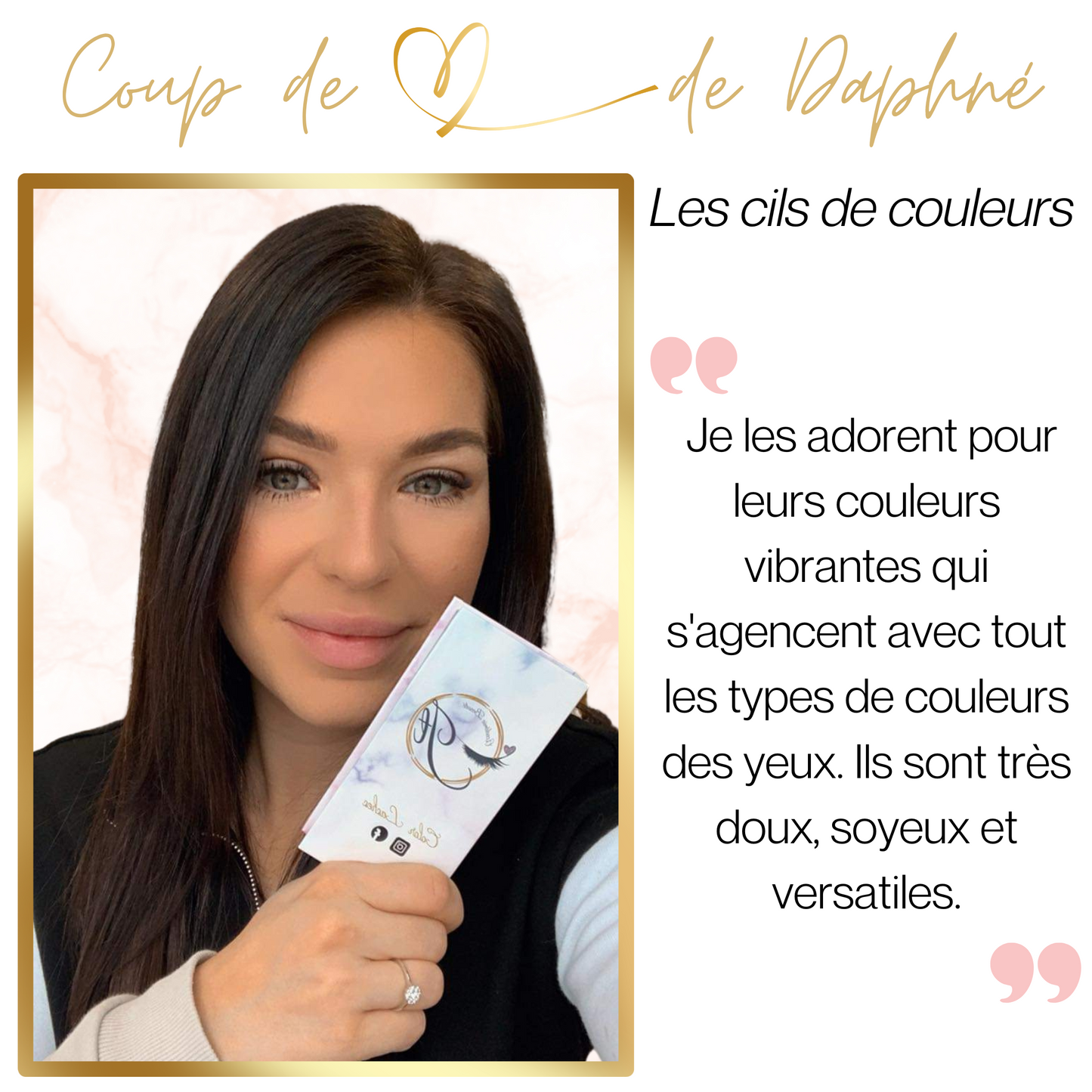 Fabulous
Ces cils de couleurs sont superbe, couleurs vibrantes et très facile à faner, j'adoreeeeeeee
J'ADOREEEEEE!!!!! Je suis littéralement en amour avec les cils de couleurs!!!!!!
Vous devez les essayer. mes clientes me demande de leur en mettre après que jai fais une story pour montrer mes nouvelles acquisisons. Les cils de couleurs se travaillent très bien et leur couleur est vraiment incroyable! Je vais en recommander d'autres bientot parce que j'ai une forte demande de mes clientes. J'ai essayée plusieurs compagnies différentes pour les cils de couleurs mais aucune compagnie arrive à cette qualité! Croyez moi!
I absolutely love these coloured lashes! The colours are so pretty and the lashes are super easy to work with. The results are beautiful
Ben la! C'est juste les plus beaux cils de couleurs je j'ai vue de ma vie!! Ils se travaillent super bien! Les clientes les adorent tout simplement! J'avais commandé 2 boîtiers et finalement à la demande de mes clientes j'ai fini par tous les commandés. Les pigments sont juste WoW. Vous devez absolument en acheter. Vous allez voir que les clientes vont vous en demander plus que ce que vous le pensiez!